Ebay coupon & Promotion
eBay Australia is an online marketplace where users can buy and sell a wide variety of items, including electronics, fashion, home goods, and more. With millions of listings, it offers a convenient and secure platform for Australian shoppers.
Ebay Australian Discount Codes, Vouchers & Coupons valid in December 2023
ebay

australia promotion: up to

60% off

select fashion
ebay

discount: enjoy up to

39% off

trendy electronics
Promo

ebay

australia:

50% off

beauty products
ebay

promotion: save

47% off

sports equipment
ebay

australia discount:

40% off

vintage fashion
ebay

Promo: up to

50% off

Chemist Warehouse products
ebay

Discount: up to

25% off

Dyson air purifier
ebay

Sale: up to

73% off

UGG sandals
ebay

Sale: up to

60% off

furniture
ebay

Discount: save up to

60% off

latest technology
ebay

Deal: up to

50% off

auto parts
ebay

Reduction: up to

25% off

collectibles
ebay

Promo: save up to

60% off

toys
ebay

Sale: Enjoy up to

70% off

on selective products
promotion

ebay

: check it out! Today's Deal for

free delivering
How to Add a Coupon Code
One of the features eBay is known for is its easy purchasing experience. Adding a voucher to your shopping cart on eBay is simple. Once you have added the product you would like to purchase to your cart, head over to the cart page.

Make sure your items are correct, and if so, select Go to Checkout.

On the right-hand side of the Checkout page, you will see your finalized total. On the left-hand side, you will see your item, alongside your shipping information and billing information, under which there will be an entry for your discount code (as seen below). You can then input your code and your discount will be deducted!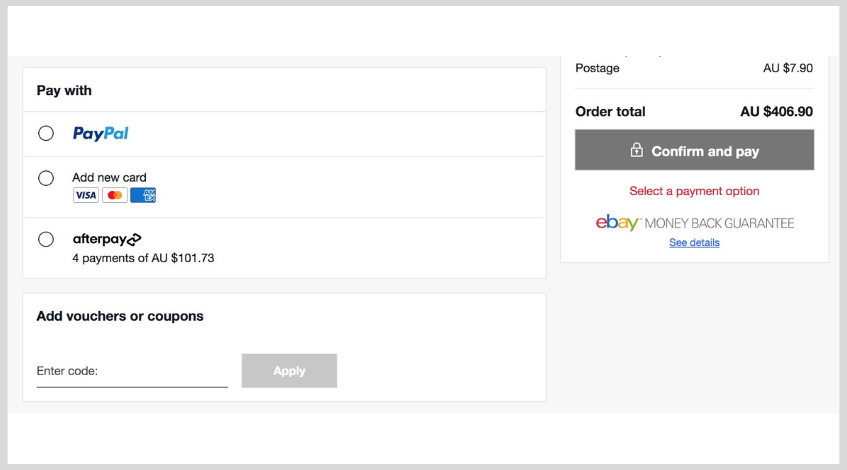 4. Simply fill out your details, and select Confirm and Pay
5. You're done! The time in which you will receive your order will depend on where your purchase is coming from.
eBay Deals
If you're looking for the hottest daily deals, eBay releases daily deals, where you can find home appliances, apparel, technology, sneakers, and even groceries at slashed prices. To avoid missing any deals, subscribe to eBay's mailing list.
eBay Mobile
One of the easiest and fastest ways to shop, the eBay mobile app is available for download so you can buy, sell, or browse straight from your phone on-the-go. The app is available for free on both iOS and Android, and has a range of features that will help you keep track of all your eBay activity.
eBay Plus
Avid shoppers can sign up for an eBay Plus subscription for just $49 annually, which will give them year-round exclusive savings, free express Metro delivery on millions of Plus items, free returns on Plus items, free delivery on Coles orders over $49 (and 5% off orders), as well as other exclusive offers.
Money Back Guarantee
Shopping online can be daunting, but eBay wants the shopping experience to be hassle-free, offering coverage on eligible purchases. While most purchases go through with no problems at all, if your item doesn't arrive (or isn't what you expected from the listening), eBay will ensure that you will get the item you ordered, or refund you the purchase and original postage cost.
Black Friday
eBay has been known to have some of the best price cuts and deals every Black Friday and Cyber Monday, so if you're an avid bargain hunter, you'll want to check back in during that time of the year for some of the lowest prices you'll see on products ranging from technology to apparel to home appliances. You won't want to miss out on the slashed prices.
You just missed these ebay promo codes:
| | | |
| --- | --- | --- |
| 80% | ebay coupon: eBay's Cyber Monday- Up to 80% Off Mega Sale! | discount already deducted |
| 80% | ebay coupon: eBay's Black Friday- Up to 80% Off Mega Sale! | discount already deducted |
| 22% | ebay promo code : shop IT gadgets and appliances, save up to 22% | TOPH22 |
| 20% | ebay coupon code : save up 20% for items from Japan | JAPAN20 |
| 80% | ebay coupon: eBay's 11.11- Up to 80% Off Mega Sale! | discount already deducted |
People also want to know
Do you need an account to purchase on Ebay?
You can shop for most things on Ebay without needing to sign up for an account, however, you will miss out on the benefits of being a member such as being able to keep track of your past activity and purchases, message other members, or even sell your own items.
Can I cancel an order once I have made it on Ebay?
Yes, you can cancel an order yourself if it has been less than an hour since you made your purchase, and the seller hasn't sent the item yet. If it has been more than an hour, you can contact the seller and ask them to cancel it for you.
What payment types are accepted?
Payment will depend on the seller, however, you can pay for most items on eBay using PayPal, Visa, Mastercard, or American Express. If you have any questions about paying for your items, it's always worth contacting the seller.
Is there a student discount on items off Ebay?
No, there is currently no student discount on items off eBay.
Are items genuine?
eBay does not allow counterfeit items, replicas, or unauthorised copies to be listed on the site. Items that bear a company's brand name or logo can be listed, as long as the products were lawfully made by or with the consent of that company. Therefore, it is always best to contact the seller to ensure you are getting the item you are expecting.
New ebay 12.12 sale
Get up to 60 % discount on the latest
12.12 promo
from ebay
ebay
EBay is a multibillion-dollar business operating in over 30 countries worldwide, facilitating consumer-to-consumer and business-to-consumer sales through its website. Based in San Jose, California, the company was founded in 1995 as flea market Auction Web, eventually rebranding to eBay in 1997. By the middle of that year, the company was boasting nearly 800,000 auctions each day, and secured itself as a pioneer and success story of ecommerce.
While initially sales were made in an auction-style format, the website has evolved and expanded to include instant "Buy It Now" shopping, online event ticket trading, and other services. Providing users with a seamless shopping experience, eBay provides the perfect online marketplace to shop fashion, technology, and more, where you'll find leading brands such as Apple, Sony, and Samsung, as well as millions of consumer online merchants. The e-commerce platform boasts more than 180 million users and over 1 billion listings globally, and is available across digital platforms (including mobile). On eBay, goods are traded every second of every day.
Wide Range of Products
Shop from a range of items on eBay, where you will find millions of collectibles, decor, appliances, computers, furnishings, equipment, domain names, vehicles, and other miscellaneous items listed on the site. Hundreds of major brands such as Adidas, Dyson, and Asus have set up storefronts on eBay to sell direction to customers, so you'll be sure to find any item you have in mind.
Generally, anything can be sold or auctioned on the site provided it is not illegal and doesn't violate the restricted items policy. If you're looking for the latest trends and products, eBay's homepage will feature the trendiest items currently available from the biggest brands on eBay, where they launch new products regularly.
Collectors have flocked to eBay for their selection of items, as well as the advanced search tools and user-friendliness of the site. In fact, collectors have been known to spend hours on eBay each day making a living buying and selling collectibles.
Bidding
eBay's auction-style bidding format makes it a great way to get the item that you want but at a bargain price. In the listing, sellers can name a starting price and you bid against other buyers-when the listing ends, the highest bidder will win the auction and pay for the item. There is also an option to "Buy it Now" price that will end the auction immediately.
Making Purchasing Seamless
eBay has long been a leader in the e-commerce space, making it an easy process to shop online for exactly what you're looking for. Customers can either shop from their favourite stores, or browse from listings all over the world. Customers can also search for products that are available in your local area by entering their postcode.
A main factor in eBay's success is its implementation of procedures to promote safe and transparent trading for all customers through the use of PayPal, as well as their dedication to preventing fraudulent transactions. Customers can always feel safe that they are getting what they are expecting, with its efficient store-rating system, so that customers can see other customer's ratings of the store they are purchasing from.