Myer discount code & Promotion
Myer Australian Discount Codes, Vouchers & Coupons valid in June 2023
Myer

Promotion: Enjoy

Free Shipping

on your next purchase
Myer

Dresses Promotion: Enjoy

25% off

selected styles
Myer

Promotion: Save

25% off

latest footwear
Myer

Promo:

25% off

women's fashion
Myer

Beauty Promotion: save

70% off

beauty products
Myer

Toys Promo: save up to

70% off
Myer

Promo:

50% off

home goods
Myer

Australia Promo: save

40% off

men's fashion
Myer

Discount:

15%

sports equipment
Myer

Lego Promo:

32% off

reduction
Promo

Myer

: save

30% off

bedroom textiles
Myer

Gift Deals: gifts for under

$25
It's simple to add a discount code to your shopping cart on Myer's website, and it is very easy to navigate. Once you've added the product you would like to purchase to your bag, head over to the shopping bag page.

Here, you will see the item you are intending to purchase. Make sure the sizing is correct for your product, and then select your delivery preference or Click & Collect. To the right-hand side under Proceed to Checkout, you will see an entry for your discount code (as seen below). You can input your code here, and your discount will be deducted!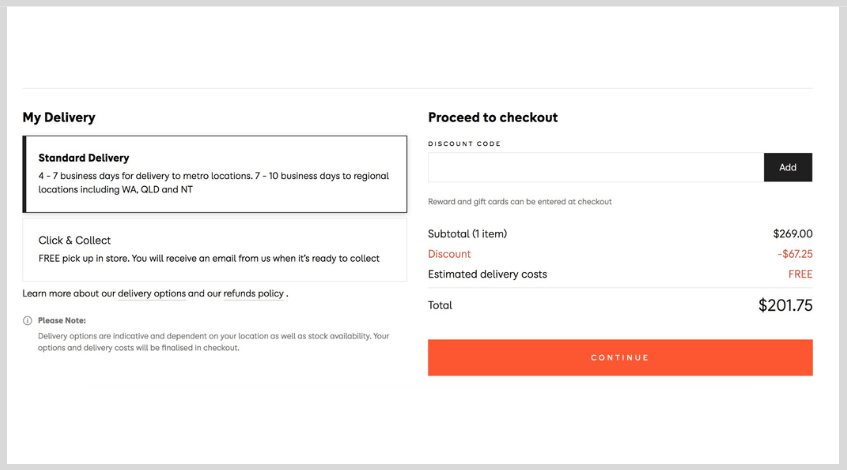 3. Select Continue, after which it will prompt you to login if you are a Myer One member, or you can checkout as a guest.
 4. You can then fill in your shipping address (if your item is getting delivered), and then select Continue to Payment Method, where you can input your billing information and desired payment method.
 5. You're done! The time in which you will receive your order will depend on your shipping method, or you can collect your purchase from your selected store if you have selected Click & Collect.
Reducing Plastic Waste
Myer is taking a step towards a more sustainable future by reducing the use of plastic bags in stores across Australia, and is now charging 15 cents for Myer plastic multi-use bags. A portion of the proceeds will go towards the Myer Community Fund which will help support over 60 charities annually.
Black Friday & Boxing Day
Myer has been known to slash their prices each Black Friday and Cyber Monday (and also on other occasions like Boxing Day!), so if you're into saving some cash, you'll definitely want to check back in during that time of year for some of the lowest prices you'll see on hundreds of products.
MYER One
Myer's rewards program allows customers to receive exclusive offers, free delivery, and more the more you shop with Myer One. It's simple (and free) to join, and there is a mobile app you can download to keep track of your purchases and rewards points. You'll be the first to know about any exclusive offers, receive a birthday gift on your birthday, and earn credits for every purchase.
Payment
Placing an online order at Myer is easy, as they accept payment via PayPal, Amex, Mastercard, Visa & even AfterPay. In order to be eligible to use AfterPay, you must live in Australia, be at least 18 years of age, have a valid and verifiable email address and mobile number, have a valid Australian bank payment card, and have less than $1000 in your shopping cart.
Myer Christmas Club
As an incentive, Myer wants to help customers take the stress out of Christmas shopping, by having customers register with Myer Christmas Club and setting up a monthly direct deposit from their bank account (to save for the Christmas season!). For every $100 customers save, Myer will contribute a bonus $10. In November, Myer will release the savings and bonus as Myer Gift Cards or eGift Cards. This means you'll have more to spend on your loved ones this festive season!
People also want to know
What are the delivery costs?
Click &Collect is available at all open Myer stores, as is store transfers from a surrounding store within the same state. Express Delivery is also available for a $9.95 flat rate, and Standard Delivery is free on orders $49 and over, and $795 for orders up to $48.99.
What is Myer's exchange/return policy?
Returns can be made if the item is unworn and in original condition, proof of purchase is shown, and within 60 days of initial purchase (exclusions apply). Exchanges in-store can be made as long as you have proof of purchase with you. Exchanges cannot be made by mail, and instead you will need to request a return and repurchase the item.
What is the Myer Care Plan?
The Myer Care Plan is an extended warranty that can be purchased in-store for eligible electrical products. This gives customers peace of mind that their purchase will be protected for a specific period and should the product fail, the convenience of having the repair or replacement process taken care of for you. It is available to be purchased in-store.
Does Myer have a student discount?
No, Myer currently does not have a student discount available.
Does Myer sell gift cards?
Myer Gift Cards are available and are redeemable online and in-store. You may redeem up to 9 Myer Gift Cards per order at checkout.
Myer
Myer is an Australian department store chain that has stores in all Australian states, retailing a range of products across men's, women's, and children's clothing, footwear, and accessories, as well as cosmetics, fragrances, homewares, electrical, furniture, toys, and food and confectionary. Myer has long been the largest department store in Australia by store count and revenue.
The Myer retail group was founded in humble beginnings by Sidney Myer, who migrated from Russia to Melbourne in 1899. He opened the first Myer store in Bendigo, Victoria, in 1900 and followed it with a second store in Bendigo in 1908. Since then, Myer has undergone a number of developments and mergers and has established its place as the leader in Australian retail, becoming synonymous with style and fashion.
Myer has stores in all capital cities across Australia except Darwin, and in addition, there are stores in Geelong, Ballarat, and Bendigo in Victoria, Albury, Wagga Wagga, Dubbo, Newcastle, Central Coast and Wollongong in New South Wales, Launceston in Tasmania and Gold Coast, Toowoomba, Sunshine Coast, Mackay, Townsville, and Cairns in Queensland. Their national flagship store is located in Bourke Street Mall in Melbourne, and underwent a $300 million redevelopment in April 2011.
Apparel for Men, Women & Children
Shop from a range of tees, hoodies, sweatpants, formal wear, athleisure, and more from local and international brands including Levis, Armani Exchange, GUESS, and more. If you're looking for the latest trends that are taking the fashion world by storm, you can check out the latest items that have been stocked at Myer. With hundreds of brands to browse from, you'll find the perfect outfit for any occasion.
In-Store Services
Myer stores are more than just somewhere to walk around and shop, offering a unique shopping experience. Take a moment to preen, polish, and pamper yourself at Myer's beauty department, get your nails done or your eyebrows groomed-or for the men, sharpen up your look with a fresh cut at one of the in-store salons. Myer also offers personal shopping services as well as a gift registry, so if you're looking to find the perfect gift for a wedding, birthday, or anniversary, they can sort you out.
Leader in Fashion
As a leading fashion authority in Australia, Myer is a key part of industry fashion festivals including Virgin Australia Melbourne Fashion Festival, Telstra Perth Fashion Festival, and Mercedes-Benz Fashion Week Australia. The department store is also heavily featured in racewear fashion, where you can see Myer fashion and passion for style and elegance celebrated across Australia's biggest race days.
Myer is the one-stop department store to provide customers with a standout shopping experience, whether they are looking for housewares, clothing, or everything else. By offering numerous in-store services, generous shipping options and return policies, and rewards points incentives, they have further secured their place in the Australian retail space as the place to shop. They are also focused on developing meaningful partnerships with other brands, with the aim of creating a chain of offline and online stores that will create value for all their customers.