Belong promo code & Promotion
Belong is an Australian telecommunications provider offering internet and mobile services. They focus on providing affordable and flexible plans with no lock-in contracts.
Belong Australian Discount Codes, Vouchers & Coupons valid in December 2023
Get 2 months for the price of 1
Belong

Promo: 20 GB phone plan for

$25
Promo

Belong

: Enjoy up to

79% off

Iphones and Samsung Galaxy
Belong

Promotion:

Free express shipping
Belong

Australia Promo:

$15

a month for 20GB
Belong

Sale: save

19%

of Samsung Galxay S21
Belong

Reduction: save

10% off

on Iphone 13
Belong

mobile: Buy mobile plans now starting from just

$1.16

per GB
Belong

international roaming: Enjoy 3GB first class data for just

$30
Belong

broadband: Get high speed broadband connection starting from

$60

per month
Belong

Internet: Fast internet packages starting from

$60

per month
Belong

Sim: Buy 5G simcard now for as low as

$29

per month
It's simple to add a promo code to your order on Belong's website. The website itself is very easy to find your way around. Simply select the plan you would like (month-to-month or 12-month contract), and make sure your address is eligible for service.

Scroll down slightly and you will see a summary of the service you have selected, and to the right you will see where you can Enter Promo Code (as seen below). Once you enter a valid code, your discount will be deducted.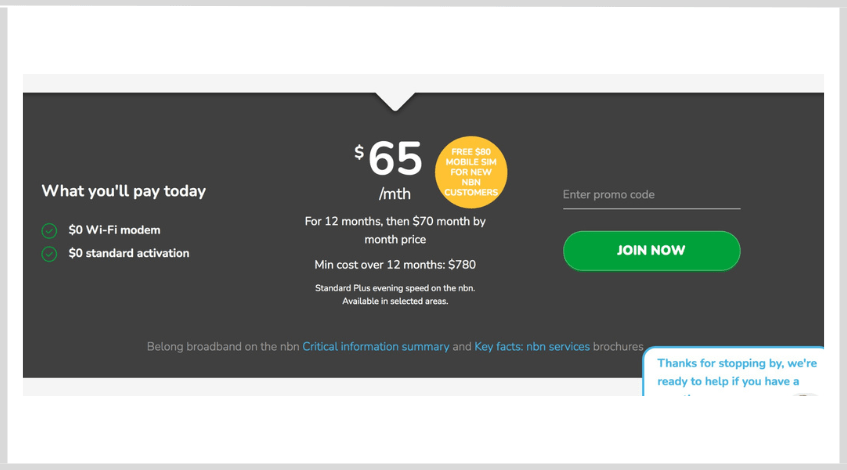 3. Select Join Now, after which you will be taken to a page where you can fill in your address and billing information and desired payment method.
 4. You're done!
100% Carbon Neutral
It's known that internet and mobile companies create a lot of greenhouse gas emissions, so Belong went completely carbon neutral in 2019, so you can feel safe that your data use is not having adverse effects on the environment. This is done by measuring the total carbon generated by Belong, and offsetting this by investing in Australia renewable energy projects and other United Nations projects that remove an equivalent amount of carbon from the atmosphere.
$80 Free Mobile Credit
If you're a new Belong NBN customer, you'll be sent a mobile SIM with your new modem that is loaded with $80 free credit. This will be delivered in 2-5 days. When you receive the SIM, you can activate a Belong mobile service through the Belong mobile application.
Payment
Belong accepts payment via two easy options, either direct debit from a Visa or MasterCard credit or debit card, or direct debit from PayPal. However, take note if you're signing up to PayPal for the first time during the process of joining Belong, payments from bank accounts will be delayed for up to five business days, which could cause a delay in the activation of your service.
Online Account
By creating an account with Belong, you can use their online tools to manage your services and activations, and solve any issues you may have yourself.
Gifting Data
You can give data to any active Belong mobile customer, as long as it is unused data and you have at least 1GB of data remaining. If you have received a data gift, any data you receive will be added to your data bank and available for use. You can gift data via the Belong app or by selecting the Gift Data option on the Belong website, after which you will be prompted to sign in to your Belong account using your username and password.
You just missed these Belong promo codes:
| | | |
| --- | --- | --- |
| 80% | Belong promo code: Belong Cyber Monday Sale- Up to 80% off on incredible products! | discount already deducted |
| 80% | Belong promo code: Belong Black Friday Sale- Up to 80% off on incredible products! | discount already deducted |
| 80% | Belong promo code: Belong 11.11 Sale- Up to 80% off on incredible products! | discount already deducted |
| $5 off | Switch to Belong now and get $5 off every month using this Belong promo code | MOVING |
People also want to know
How can I contact Belong?
You can contact Belong's customer support team on their website, where you can send a message and it will be assigned to a support specialist. Once your query has been looked into, you will have a response within 24 hours. For urgent issues, the team will try to get back to you as soon as possible.
How quickly can I get connected with Belong?
If you're already connected up with NBN equipment, your Belong service can be activated within 2-7 business days. Otherwise, you'll need a NBN technician appointment to connect your service. You'll be informed of this when you join, and you can book this online from available times—once you've been set up, you can complete your order with Belong.
How much does it cost to get set up?
If you have selected a month-to-month plan, it will cost $60 for a one-off modem charge when you sign up.
Does Belong have a student discount?
Belong currently does not have any student discounts.
What if I want to cancel my Belong plan?
Belong offers month-to-month plans, so that's not a problem. However, if you want to cancel your plan and have signed a 12-month contract, you will be charged an early termination fee. The maximum termination fee is $240, but this will decrease for each month you stay with Belong.
New Belong 12.12 sale
Get up to 60 % discount on the latest
12.12 promo
from Belong
Belong
Belong is a discount mobile and broadband brand, run by Australia's largest telecommunications company Telstra. If you're looking for a way to keep things as simple as possible, Belong is a great option for you. Launched by Telstra in 2013 with the goal of offering great-value plans nationwide, the company initially launched with just internet plans, and later introduced mobile plans to help Australians stay even more connected.
Belong has since established itself as one of the best known low-cost internet service providers, and in a short period of time, Belong's plans and services garnered them hundreds of thousands of customers. They are now still going strong today as an NBN and phone plan provider.
At Belong, the company collaborates with traditional owners and First Nations staff to embody the wisdom of the First Peoples and learn from this essential perspective. They pay respect that the First Peoples are the traditional custodians and original owners of this land, and are an essential link to our country's past and have a vital role to play in its future.
According to Money Magazine, for the last two years in a row, Belong has been named Australia's Best Value NBN Plan.
Keeping It Simple
Belong has the belief that internet and mobile services should be as straightforward as possible-there's no need to get complicated with it and it shouldn't cost a fortune. All you need to do is choose your data cap, speed, and contract length, and don't worry about activation fees or phone bundles. Basically, what you see is what you get, with no peak or off-peak periods or hidden fees involved.
One thing the company also emphasizes is getting rid of any confusing terminology and difficult choices for those who aren't the most technologically-advanced. Most of the time, you don't have to worry about bundles, activation fees, or complicated phone plans. Just let them know what you want-unlimited data, month-to-month plans, 12-month contracts, and so on. The choice is all yours.
Once you have set up with a Belong service, you typically only need to pay for the modem (unless you have selected a deal where the modem is thrown in for free). This means there are no hidden costs for activation and set-up. It's as simple as that.
In order to find out if you're eligible for a Belong plan, all you need to do is check your address in their broadband search engine. If you are eligible and have selected a plan that works best for yourself and your family, you can place and order directly. They will then help you to organise an installation date and time, as well as organise transferring any current broadband plans you may have over to their own service.
When it comes to selecting an internet service, all the technical jargon can get confusing, and that's where Belong stands out above the rest. Not only do they offer great plans at affordable prices, but they have a great team of experts that offer dedicated online support within 24 hours (no regular call centres).